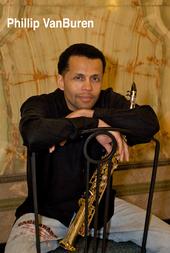 Phillip Van Buren is a graduate of The University of Michigan, Phillip has spent the last several years pursuing music theory and music technology at both Wayne State University and Schoolcraft College. Phillip has obtained personal woodwind instruction from Sax men John Wojciechowski, George Benson, and DSO Bassoonist Marcus Schoon. All of these assets finally fused into a turnkey ability to compose, arrange, engineer, and perform all tracks on the maiden project Asia Minor.
Recent Affiliations/Engagements: Currently Phil plays as sideman for up and coming smooth jazz artist Cheri Oliver as well as the gospel rap group God's Army. The Detroit Taste Fest and The Detroit Music Awards were among the venues that Phil helped back up with a gospel horn sound for God's Army. Wayne State University's Noel Night was his most recent solo engagement. Currently Phillip is one of the music ministers at Covenenant Community Four Square Church in Royal Oak. Finally, Phillip holds the position of Artist in Residence for Hot Ice Inc, a multimedia consulting firm based out of the Washington D.C. area.
Phillip Van Buren
Phil's Sound: The influence for Phillip's first solo project is varied and includes Jazz, Gospel, World, Pop, Brazilian, and Classical. He performs as a solo artist, quartet, or up to a seven piece band depending on the job's requirements. P/A equipment is included for audiences up to 250 people.
Current Project Title Song: Asia Minor: Inspired by a desire to take a middle eastern scale and jazz improvisation and wrap it in a dance beat. Sunrise is a merger of African rythyms, techno and brazilian type vocals. On The Trail is a musical night journey on some imagined forested trail. Tia is a love ballad in its most simple form. 1stgroove contains hints of smooth jazz but with more of a sultry neosoul beat. The horn is up-tempo and is a contrast in beats between hip-hop and jazz fusion. The Reason is a song inspired by the gospel roots of a message of hope. After The Rain is a medium tempo jazz flavored motif. Toccata Funk is based on Toccatta and Fuge in D minor by J.S. Bach. This song merges classical and the funk element and creates alot of energy in a live session.
Cover Material: Cover artists include: David Sandborn, Grover Washington, Chick Corea, Ronnie Laws, Kenny G, Boyz to Men, The Yellow Jackets, The Crusaders, Marvin Gaye, The Average White Band.